23 Local Vegan Businesses to Support in 2023
23 Local Vegan Businesses to Support in 2023
We wish to debut our site with Merseyside's vegan must-haves as we go towards the end of Veganuary! Surprisingly, vegan-only businesses can be quiet this time of year.  As locals feel the post Christmas pinch and large chains do more options and offer massive discounts. We wanted to highlight our favourite vegan businesses in Liverpool, The Wirral, and across the North West as local, independent, vegan businesses need us now more than ever!
Supporting local vegan businesses in Merseyside
is a wonderful way to help your neighbourhood and enjoy the satisfaction of being a part of something that supports the ethical and ecological values of a vegan lifestyle while enhancing the local economy. Many vegans opt for a plant-based diet to lessen animal cruelty and suffering. By patronising neighbourhood vegan companies, you not only help sustain local employment, support the growth of that company and your neighbourhood, but you also contribute to the global vegan movement's success.
One of the biggest joys of supporting local vegan businesses is the sense of community it creates
Owners and operators of vegan companies in Merseyside frequently have the same beliefs and way of life as their patrons. At larger, non-veg corporations, it might be challenging to find a sense of community and familiarity. Local vegan businesses frequently specialise on a particular good or service, enabling them to provide something truly original, creative, and special. Local vegan companies are frequently the only places where you may find these kinds of things, whether it's artisan vegan cheese, a vegan restaurant, or a vegan beautician or barber. Shopping at a nearby vegan establishment makes you more than just a customer; it makes you a valued member of a community striving for a future that is more compassionate, diverse, and sustainable.
What about the environment?
Why is supporting a local vegan businesses important for the environment? A plant-based diet is one of the most effective ways to reduce our environmental impact. Animal agriculture is a major contributor to deforestation, water pollution, and greenhouse gas emissions. Local businesses are also often smaller and more sustainable than larger corporations, which means they have a smaller carbon footprint. By choosing to shop at a local vegan business, you are making a conscious choice to reduce your impact on the environment.
So with all that in mind we bet you are itching to know more about what vegan business are near you so let's get stuck into our list!
In no particular order 23 local vegan businesses to support this year are:
The Vibe Café
How could we start off our list without mentioning our own business baby; The Vibe Café in Liverpool One! We are an independent family business focusing on whole food dishes, packed with 100% plant based ingredients! Making as much in house from scratch as we can! We serve Breakfast, Lunch and Dinner with plenty of Gluten free options. We also serve the most delicious locally roasted fair trade coffee, healthy smoothies, grab and go toasties and artisan vegan cakes. Check out our menu HERE.
We are located on Paradise Street behind John Lewis, facing the Liverpool One Bus Station. With ground floor access making us wheelchair accessible and as we love animals we are of course Dog Friendly too!
We are open Monday – Thursday 9.30am – 5pm, Friday – Saturday 9.30am – 8pm and 9.30am – 4pm on Sundays and Bank Holidays.
Purple Carrot
Purple Carrot is a well regarded, 100% Vegan store that sells everything you could possibly need for your pantry. Such as cruelty-free cosmetics, locally grown organic produce, and all the necessary pantry staples. You can strengthen your eco-actions and restock on goods like laundry detergent, hand and body soap, as well as dry goods and snacks, by using a zero-waste station. They also have a sizeable selection of chocolate and snacks, making it the ideal spot to find unique delicacies that are hard to find in more mainstream shops.
Located on Smithdown road, they are open Monday – Tuesday 10am–6pm, Wednesday – Thursday 10am–7pm, Friday – Saturday 10am–6pm and Sunday 11–5pm.
Beatroute
Liverpool's first vegan food walking tour! Perfect for locals wanting to see what vegan options are available in Liverpool and great for visitors to get the inside scoop of what's hot in our vegan friendly city! They will introduce you to independent vegan cafes and restaurants like The Vibe on their 4-hour tour of Liverpool's Ropewalks area. If you have friends or family visiting or are new to city yourself and are looking for a day full of vegan treats, chill times and snippets of Liverpool history then this is the tour for you!
Head to their website and book a tour today!
Urban Calm
Urban Calm have got you covered for all your vegan beauty needs! Using only the best vegan friendly, cruelty free and eco-friendly products they have a extensive list of treatments at their full vegan location in Liverpool's Baltic Triangle. From facials to massages they have a variety of luxurious and relaxing treatments for our community to be treated like kings and queens!
Open Monday – Saturday 10am – 6pm and Closed on Sundays.
Check out their extensive treatment menu and book via their website.
Plant Vegan
Another fantastic independent vegan business retailing all thing vegan in Northern Liverpool! Located in Anfield Plant Vegan is 100% vegan store with an ethos to sock and promote other independent vegan businesses selling vegan cheese, food and snacks, gift baskets and even local art.
Open on Fridays 10am – 5pm and Saturdays 10am – 4pm with an online shop which you can find HERE.
Royle Minerals
Royle Minerals are making it easier than ever to live a healthy life style with the support of their natural nutrient dense Inca Sea Moss. We love it in a smoothie or even straight up out the jar. Sea moss gel is made from Inca Sea Moss (Chondrus Crispus) that's been wild-harvested from the Pacific coast of Peru and carefully blended with the perfect balance of spring water and fresh lime juice.
Sea moss is an all-natural way to get 92 of the 102 vitamins and minerals that your body needs to keep functioning optimally, including iodine, calcium, potassium, iron, zinc, and vitamin B-complex.
With a variety of options to cater your sea moss to your vitamin needs like the joints and bones version with added turmeric and ginger which can assist in the relief of joint pain. Find what's suitable for you on their website now and you can also order via Instagram to collect in store at The Vibe to save on postage!
Bisque it
Located in the wonderful Women's Org in our Baltic Triangle, Bisque it as an all Vegan Café with painting and ceramic craft activities for the whole family! They have a lovely fully vegan menu in the café where you can snack on plant based dishes and drinks while you paint! This is a great one for families and creatives. Book via their website where they also have an online shop for take away kits to create ceramics in the comfort of your home.
C Saw
Just a short drive or bus/train journey from Liverpool in C Saw located in Birkenhead.
Using natural and organic 100% cruelty free and vegan products they specialise in the most beautiful hair colouring and hair dressing! Part of the green salon collective the also have a small refill station and are dog friendly so you are welcome to bring your 4 legged friends along to your appointment.
Whitegate Animal Sanctuary
Helping animals from all walks of life Whitegate Animal Sanctuary on the Wirral was created to rescue unwanted and neglected animals from the animal agriculture industry. Often in need of support and volunteers local sanctuaries like this one rely on the help of everyday people within the community whether it's a spare morning each week or a donation of money or supplies.
To donate to them or get in touch about fundraising or anything else they may need contact them via thier Facebook or Instagram page.
Cake Hole Liverpool
The most delicious vegan bakes you ever did taste! Cake Hole is an all vegan bakery that supplies our very own vegan cakes enjoyed at The Vibe Café! They also can make celebration cakes to order and have their treats available in some of the other vegan stores mentioned on the list like Purple Carrot on Smithdown road. They have a huge variety of creative and tasty flavour combinations as well as cookie sandwiches, brownies vegan jaffa cakes and much more! Next time you need a celebration cake support local and order via their website for custom orders or to see where you can buy their cakes.
ELEVEN: ELEVEN Yoga
What fits more with the vegan lifestyle than the mindful, movement practice of yoga. Taught beautifully at the eleven:eleven studios in Liverpool City Center on Cook Street. With an amazing value intro offer of 5 classes for £30 there's no better time to give it a go! Also offering Pilates, Barre and Yogapaltes you can book your class now on their website or pop in to their peaceful studio.
Son of a Barber
Located in Maghull, Son of a Barber use all cruelty and vegan products in their variety of treatments. Offering a professional and relaxing service to freshen up your look. Furthermore you and your family will be looked after by the friendly team at Son of a Barber! Book online or give them a call they are open Monday – Saturday 9am – 6pm.
Zero Clucks Given
Voted the Wirral's best burger in 2022 Zero Cluck's Given have made a name for themselves creating their own seitan chicken giving the classic takeaway a vegan and cruelty free make over! Presently this Birkenhead vegan business makes your favourite indulgent dishes without the animal suffering leaving your conscious at ease to enjoy the deliciousness!
Open Wednesday – Sunday offering dine in, takeaway and time slot collections.
Find more information of their Instagram or Facebook Page.
The Fermentation Station
This award winning independent vegan business focuses on seasonal fermentation products like kombucha, kimchi and sauerkraut. They make small batches of diverse fermented foods which are good for your good and made using traditional and sustainable practices.
You may have seen them on Aldi's Next Best Thing showcasing their Kimchi before the end of last year. Support local by buying their products direct from them online via their websites or in other local stores previously mentioned on our list (Plant Vegan and Purple Carrot). Interested in learning more about fermentation? They also run workshops which you can find more information on their website and book their too!
Meatless Meal Prep Co.
Looking for help with vegan meal prep? The Meatless Meal Prep Co. have got you covered offering nation wide delivery on their 100% plant based meals! Based in Liverpool Meatless create a variety of dishes for those who might not enjoy spending too long in the kitchen but nonetheless are looking for a convenient, healthy and tasty option! Head to their website to see their current Veganuary 25% off deal and how to order!
Vegan Wellness Baker
Another delicious Vegan Baker in our community is Vegan Wellness Baker! From corporate cupcakes to seasonal themed treat boxes Vegan Wellness baker makes wonderful 100% plant based homemade desserts. A personal Vibe favourite is for sure their rocky road! Check our their Instagram for their menu, market pop up schedule and order via direct message.
The Gluten Free Pie Company
The Vegan and Gluten Free Pie of your dreams! The Gluten Free Pie company is all vegan and specialises in Gluten Free pastry with a variety of creative plant packed fillings. Support local and try one of their delicious flavour combinations! Available in local stores and direct online via their website.
Forked Up Vegan
Currently in between premises Forked Up is an inventive, Asian inspired eating company. Frequenting pop ups with a new location coming soon! Equally we loved their previous location in New Brighton and cannot wait to see what they have in store next! Support local and follow them on Instagram for all the updates regarding their new opening! Moreover we wish them every success and the best of luck!
Wilderness Hair
Another fully vegan salon this time focusing on all natural styling and drying techniques with a specialty in textured, curly hair. Wilderness has a lovely calming atmosphere with a diverse range of treatments and knowledge of the hair care industry. Book your appointment online with them today.
The Nakery
Once located on Berry Street, The Nakery closed their store front in 2022. Albiet still with a huge following for their raw vegan desserts they carried on with a home delivery service on their Instagram. Also selling to local shops and cafes like Mattas on Bold Street and Purple Carrot on Smithdown road making their fanbase very happy! The whole team at The Vibe love The Nakery's treats as they are not only delicious but packed with whole foods, refined sugar free and gluten free. Support local and find them in one of the stores mentioned and check our their Instagram to order for delivery via direct message.
Go Falafel
The freshest falafel in town! Go Falafel is located near the Met Quarter as serves the best made to order Falafel in Liverpool! Have it on a wrap or with their healthy daily salads. You can't go wrong with this grab and go option! Also serving a variety of juices and smoothies. With a few seats in store and alternatively available on delivery platforms to order straight to your door. Now with locations across the North West and also in Manchester, this family run independent is not to be missed!
Plant Based Directory.
The No.1 All Vegan Tool founded and created in Liverpool especially to support local businesses!
This locally established FREE to download app can help you eat, drink & shop the cruelty-free way using Plant Based Directory.
The Plant Based Directory, are on a mission to make veganism more accessible!  Their awesome app is filled with hundreds of vegan businesses across the UK all in one place.
​The Plant Based Directory app has been designed to help you discover 100% vegan food, drink, products and services near you.  This tool not only helps the movement but also the independent business at the forefront of it so big THANK YOU to its creators!
Support local and Download NOW on IOS or Android!
Vegan Haven
Its all in the name! Vegan Haven is a store packed with everything from homeware to dog treats. With all the ethical living tools that every vegan may need! They have an awesome online store and a lovely store located on Ledsham Lane in Chesire. They also have a sanctuary where they rescue, rehabilitate and release wildlife. Certainly something to be proud of and a business the community can get behind!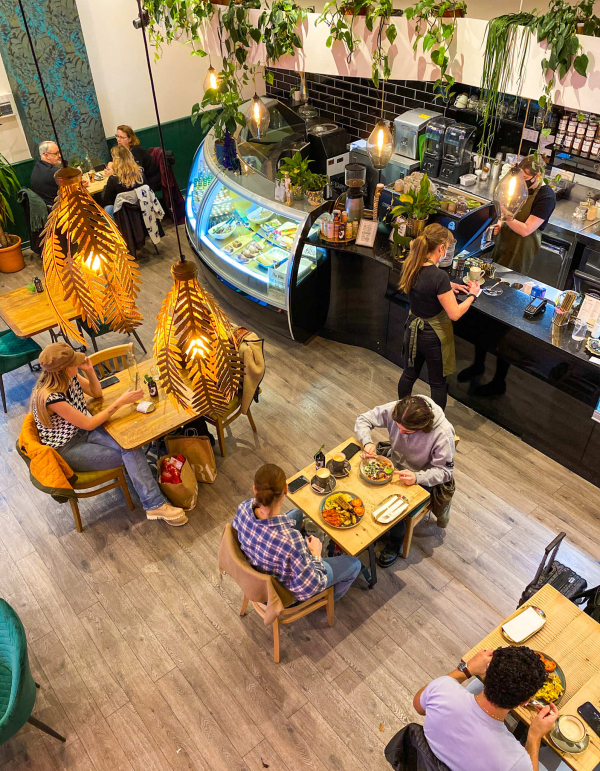 That concludes our 2023 list of local vegan businesses to support!
As we've seen, shopping vegan and local supports cruelty free ethics! Additionally it reduces your environmental footprint, and helps your community move toward a more sustainable and compassionate future. Instead of shopping at a non-vegan or major corporate, try a local vegan business. Your neighbourhood, animals, and earth will thank you!