A FOOD EXPERIENCE FOR THE MIND, BODY AND SOUL 
Our mission is to create and serve an experience for the mind, body and soul. We are a family run business with a dream to share the food we love, with the city we love. Serving 100% plant based food and drink to nourish, nurture and inspire the people. We are passionate about bringing you locally sourced produce, protecting the environment and using eco-friendly packaging for a sustainable future. So here's to protecting the animals, the planet and our health;
From our family, to yours.
We are proud to serve a certified fair-trade, single plantation coffee roast, which comes from a Women's Cooperative in Honduras, South America . Served with your choice of plant based milk, the house favourite is Oat Milk by Minor Figures..
Open: 9.30am – 5pm Monday to Saturday and 10am – 4pm on Sundays & BANK HOLIDAYS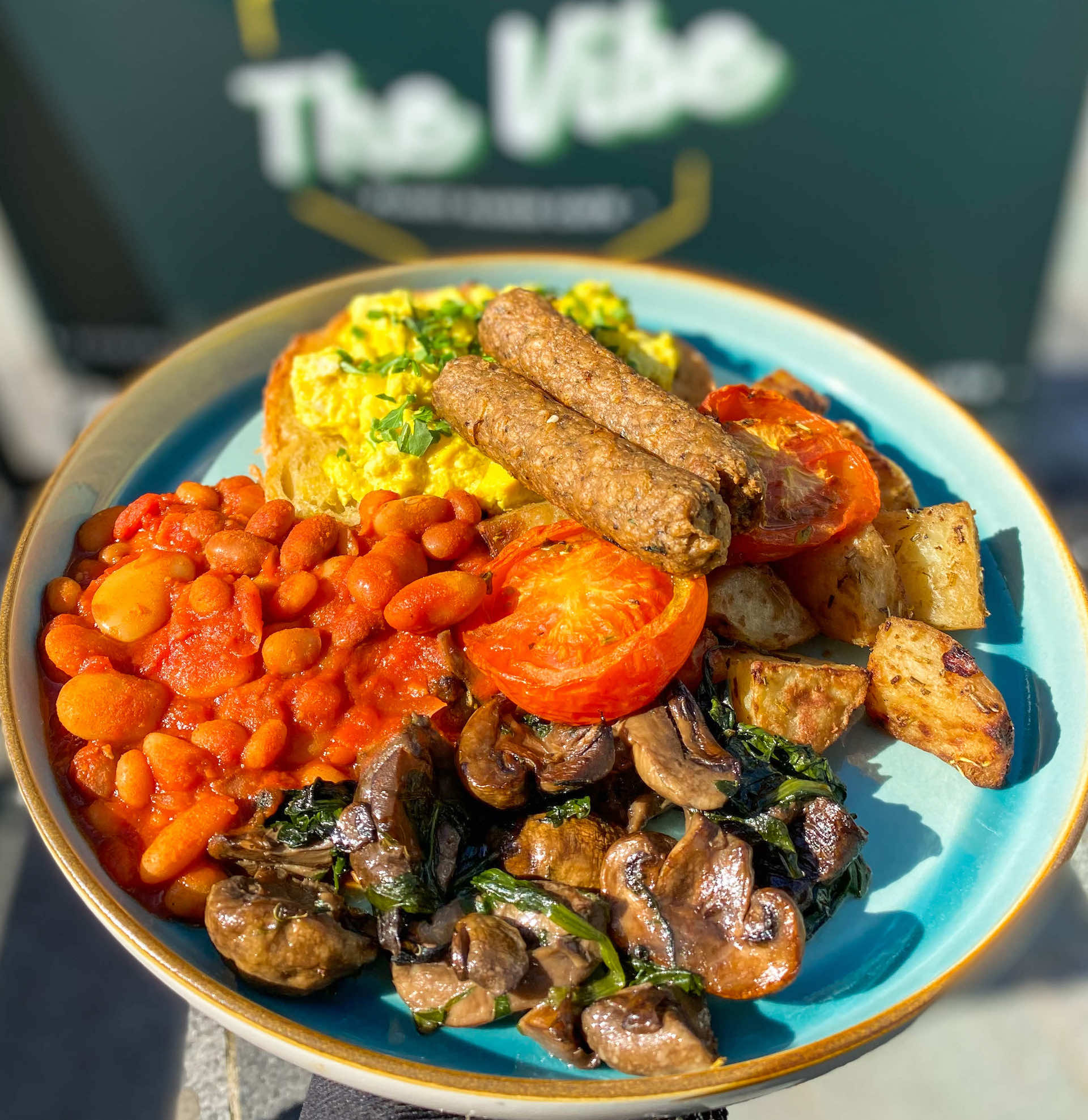 Our full english breakfast with VEGAN sausages, tofu scramble, SKIN ON HASH potatoes,
house beans, mushrooms, roasted TOMATOES AND SOURDOUGH TOAST.
£9.95
| Gluten free option / £1.00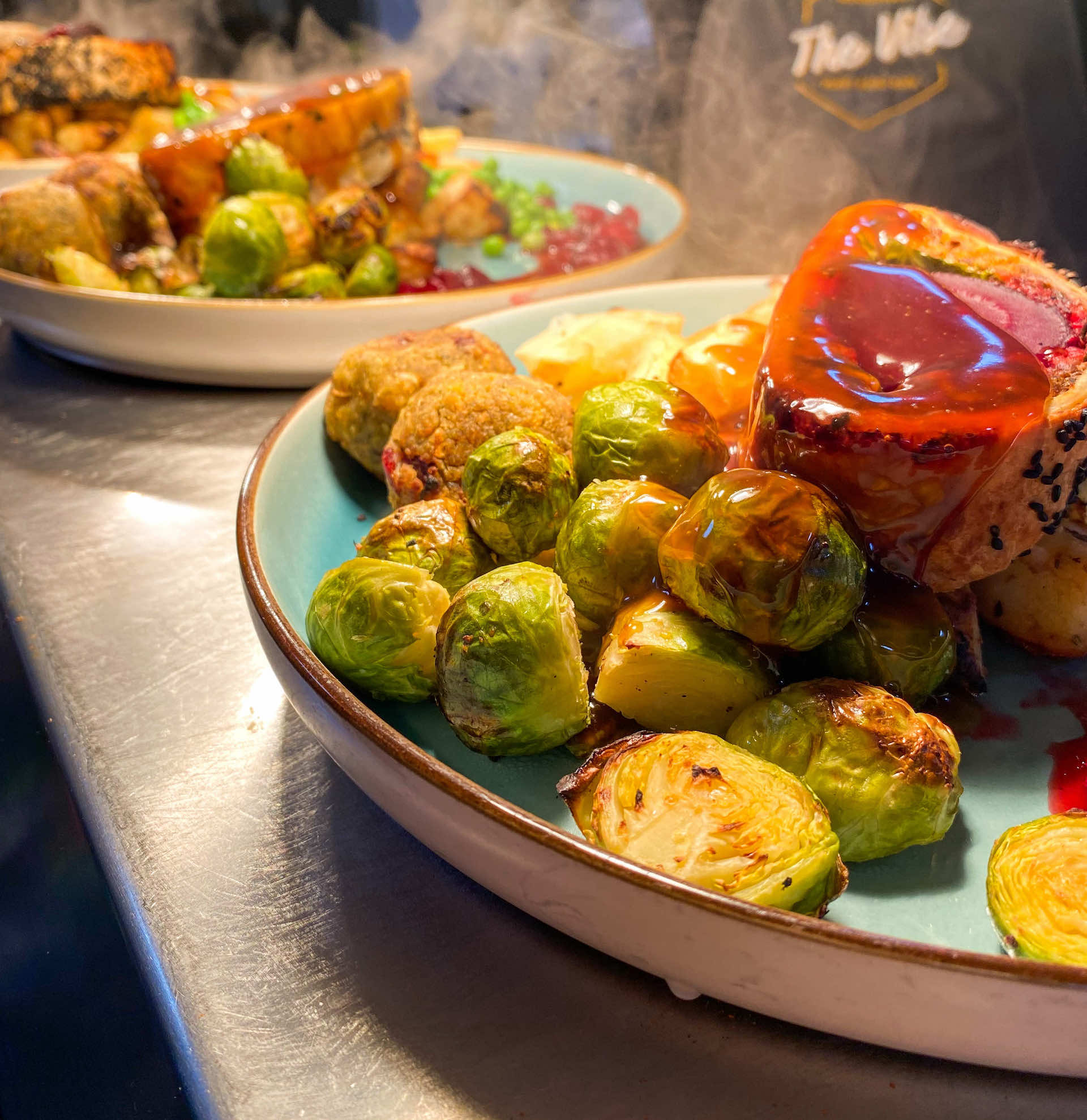 A stack of crispy mix potatoes, roasted peppers and carrots tossed in herbs and spices, topped with a homemade vegan fried egg.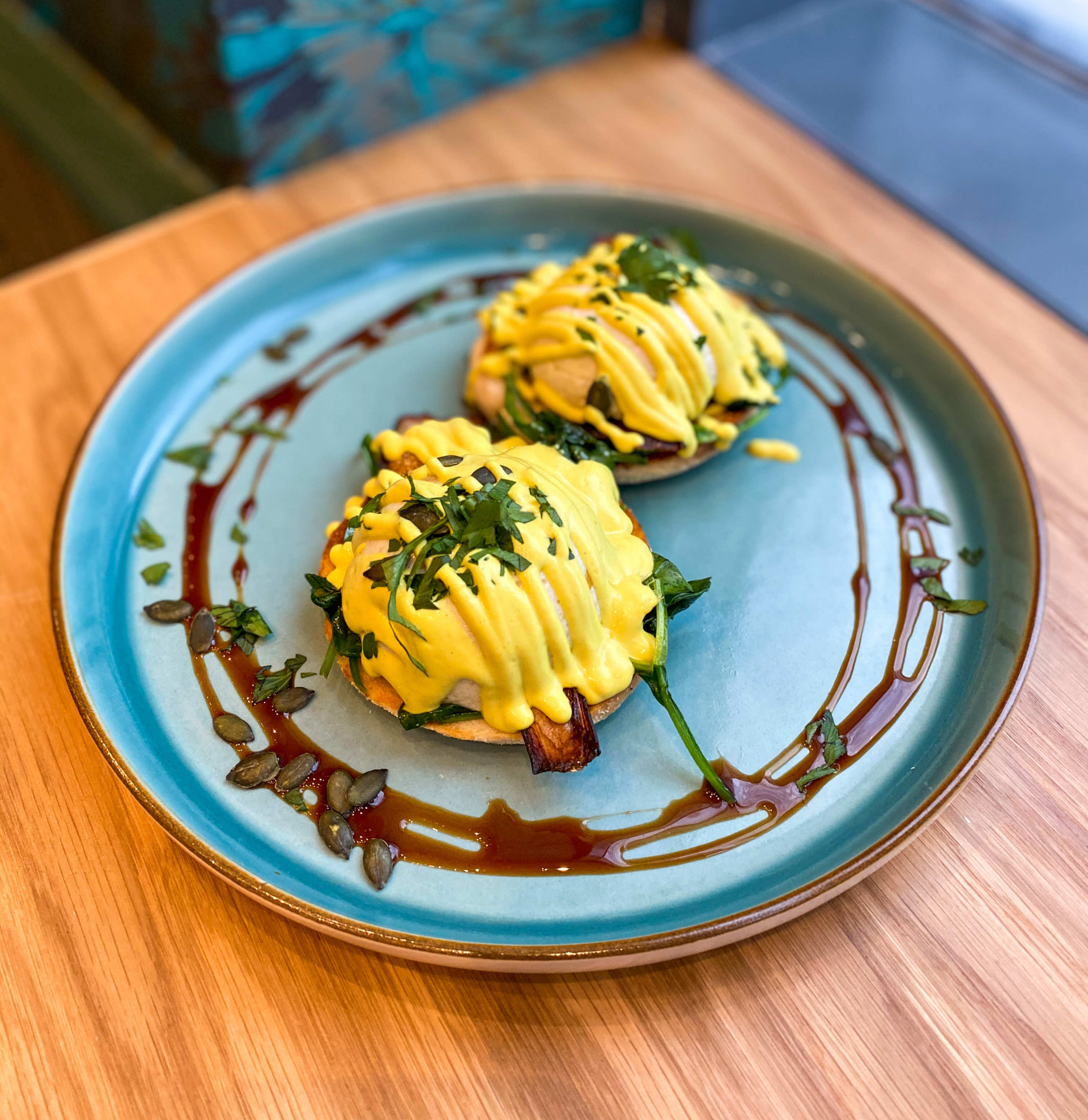 Homemade vegan poached eggs on a bed of spinach, smokey pulled jackfruit on an english muffin, smothered in hollandaise sauce.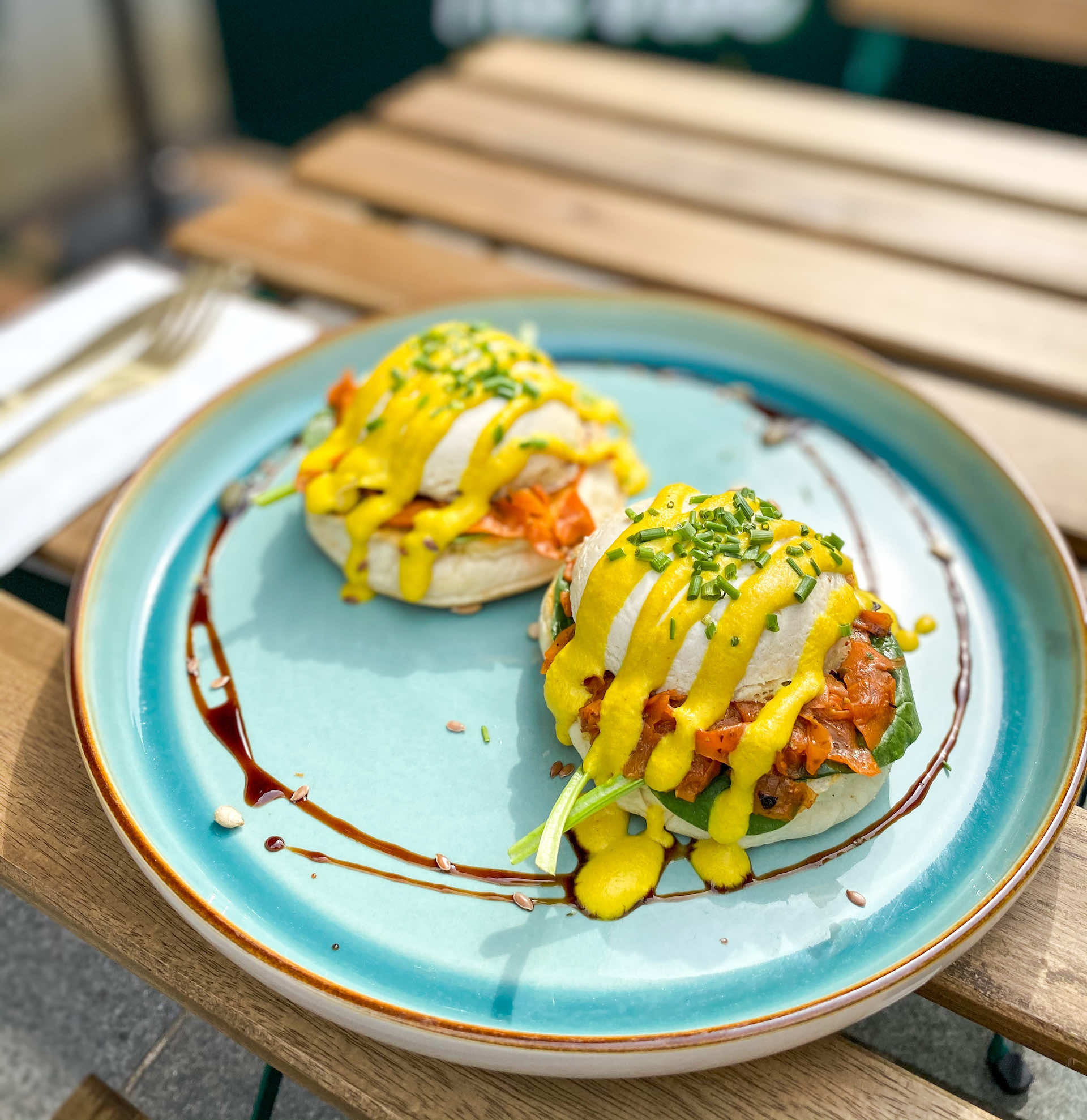 Homemade vegan poached eggs on a bed of spinach,smoked carrot 'salmon' and an english muffin,smothered in hollandaise sauce.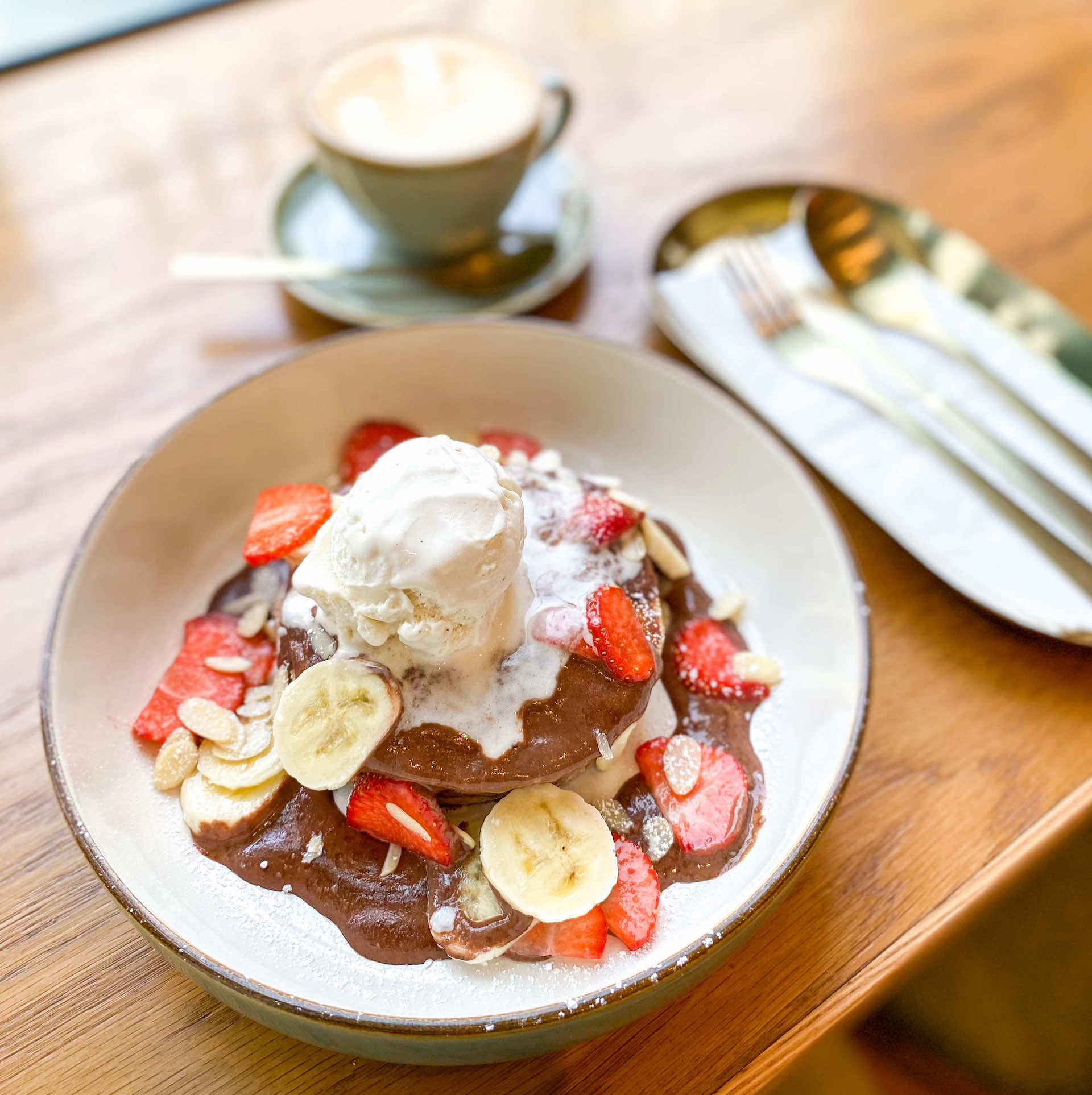 Gluten free pancakes topped with homemade 'notella',flakealmonds, strawberries, banana and a scoop of
vanilla ice cream.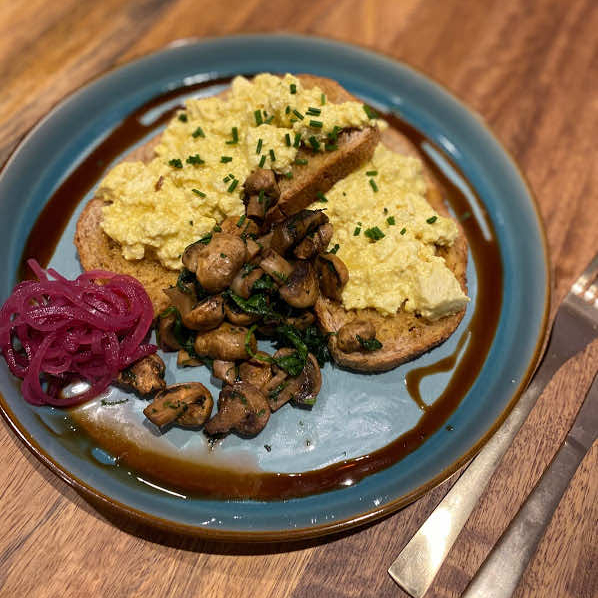 Homemade tofu scramble with a side of sautéed spinach mushrooms, on your choice of toast.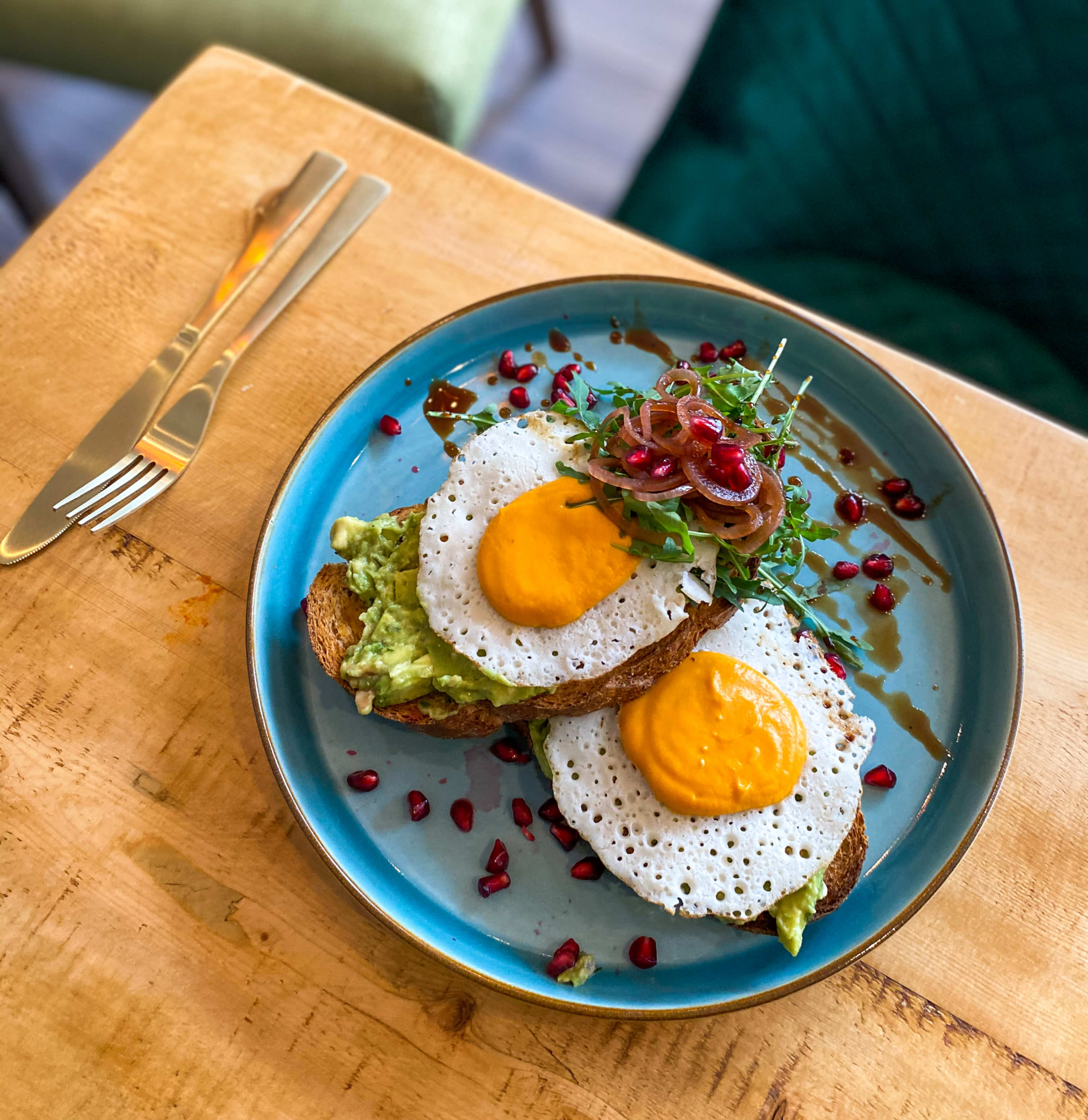 Smashed avo on SOURDOUGH toast topped with fresh greens and seeds.
+Add a vegan egg for £1.50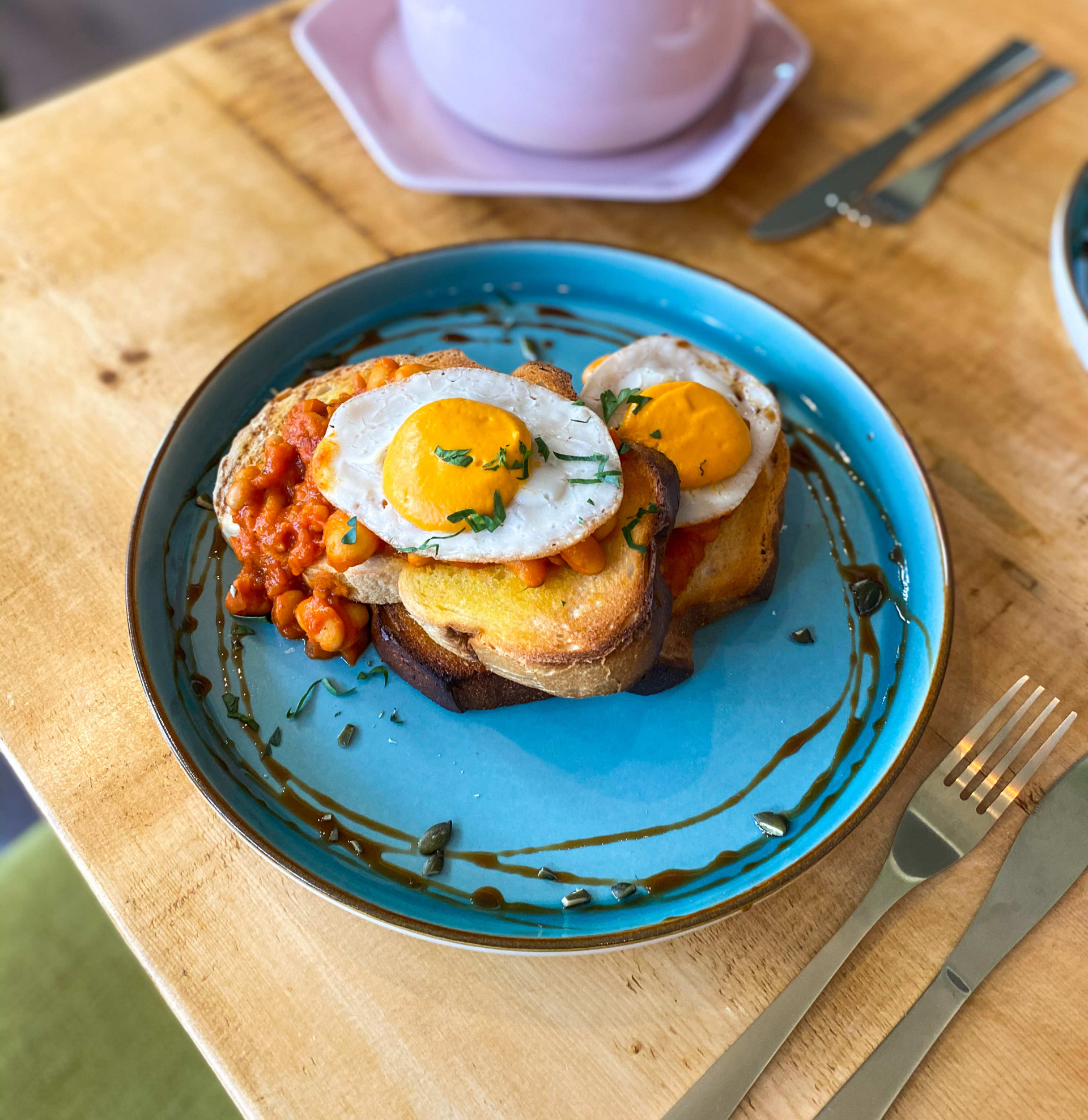 Homemade mix of baked beans in a rich tomato sauce topped with a vegan egg, on SOURDOUGH toast.
+Add a vegan egg for £1.50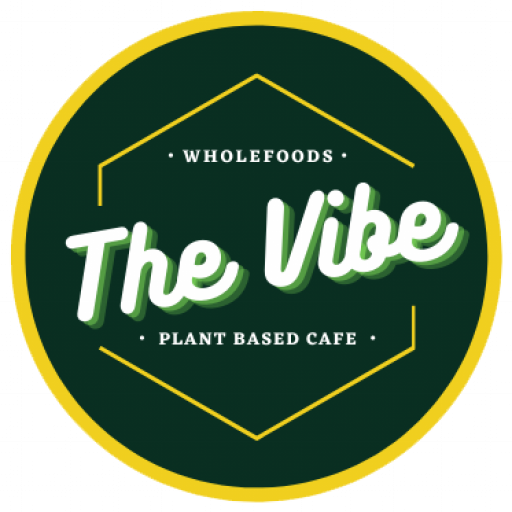 Lentil and walnut bolognese, spinach andvegan cheese served on a toasted ciabatta.
Smokey pulled jackfruit, tomato salsa, spinach, house cheese sauce and mayo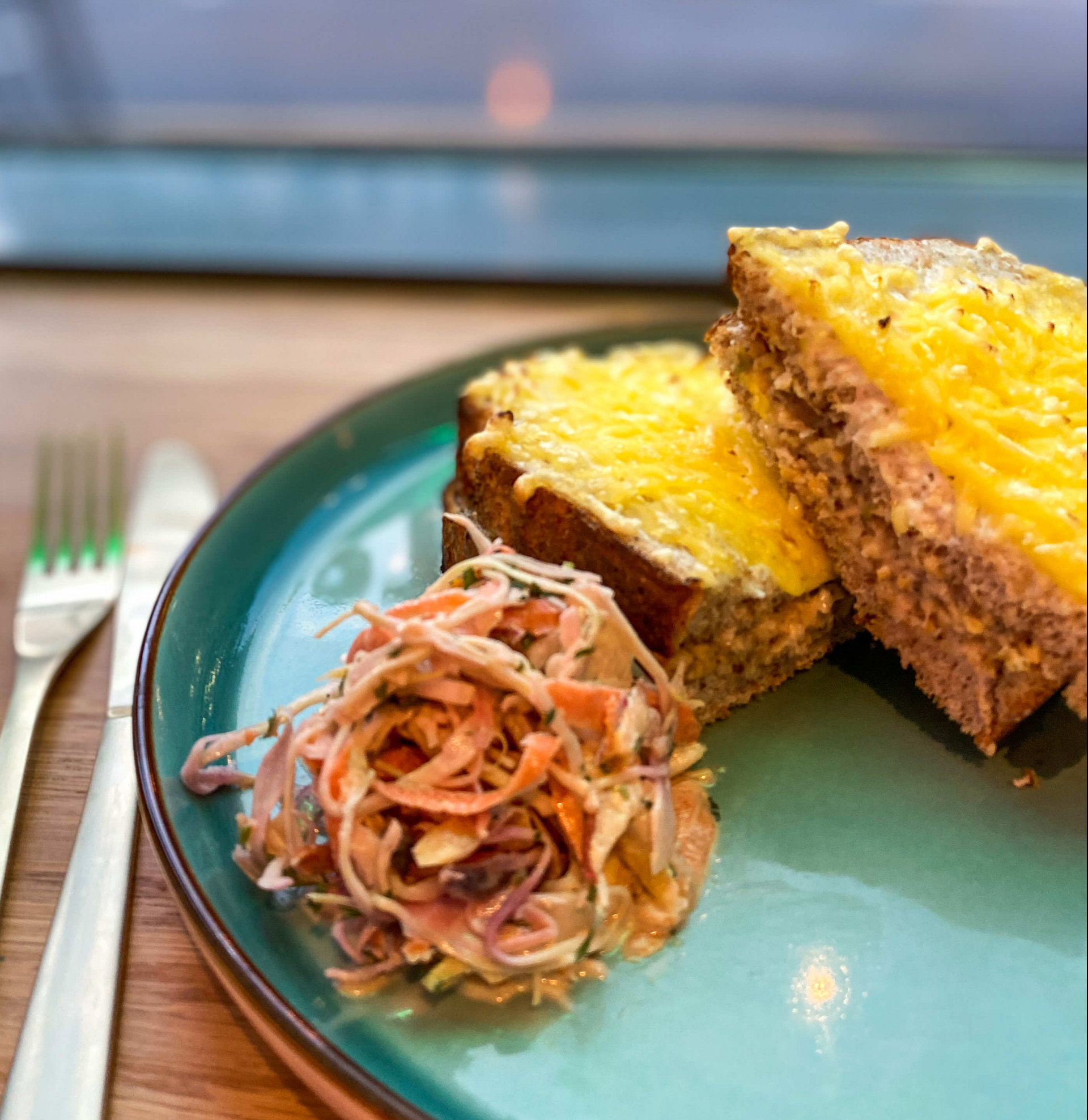 Homemade chickpea 'tuna' mix, toasted and topped with cheese.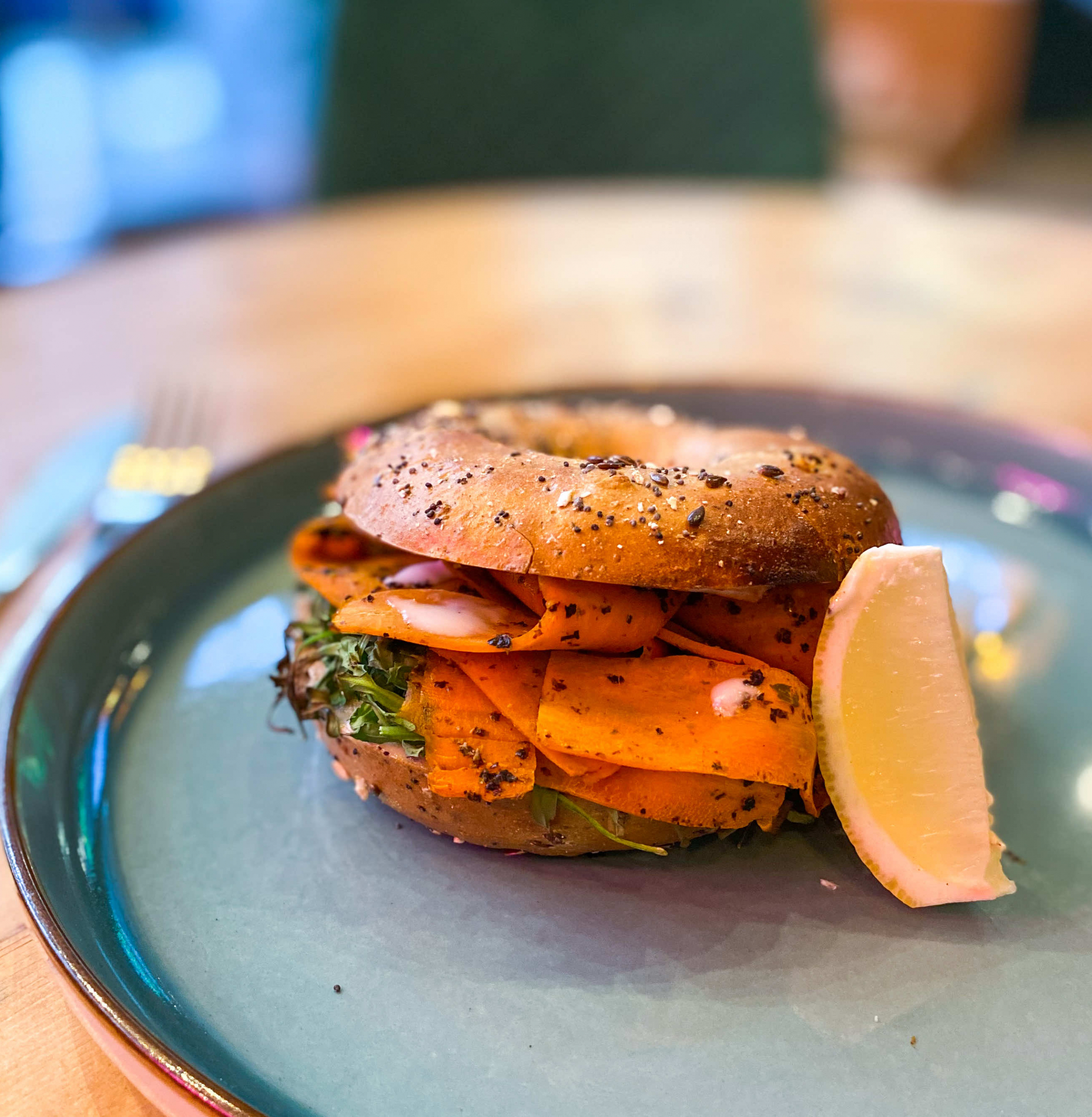 Homemade carrot 'salmon' and cream cheese with rocket on a seeded bagel.
£4.95
| Gluten free option / £1.00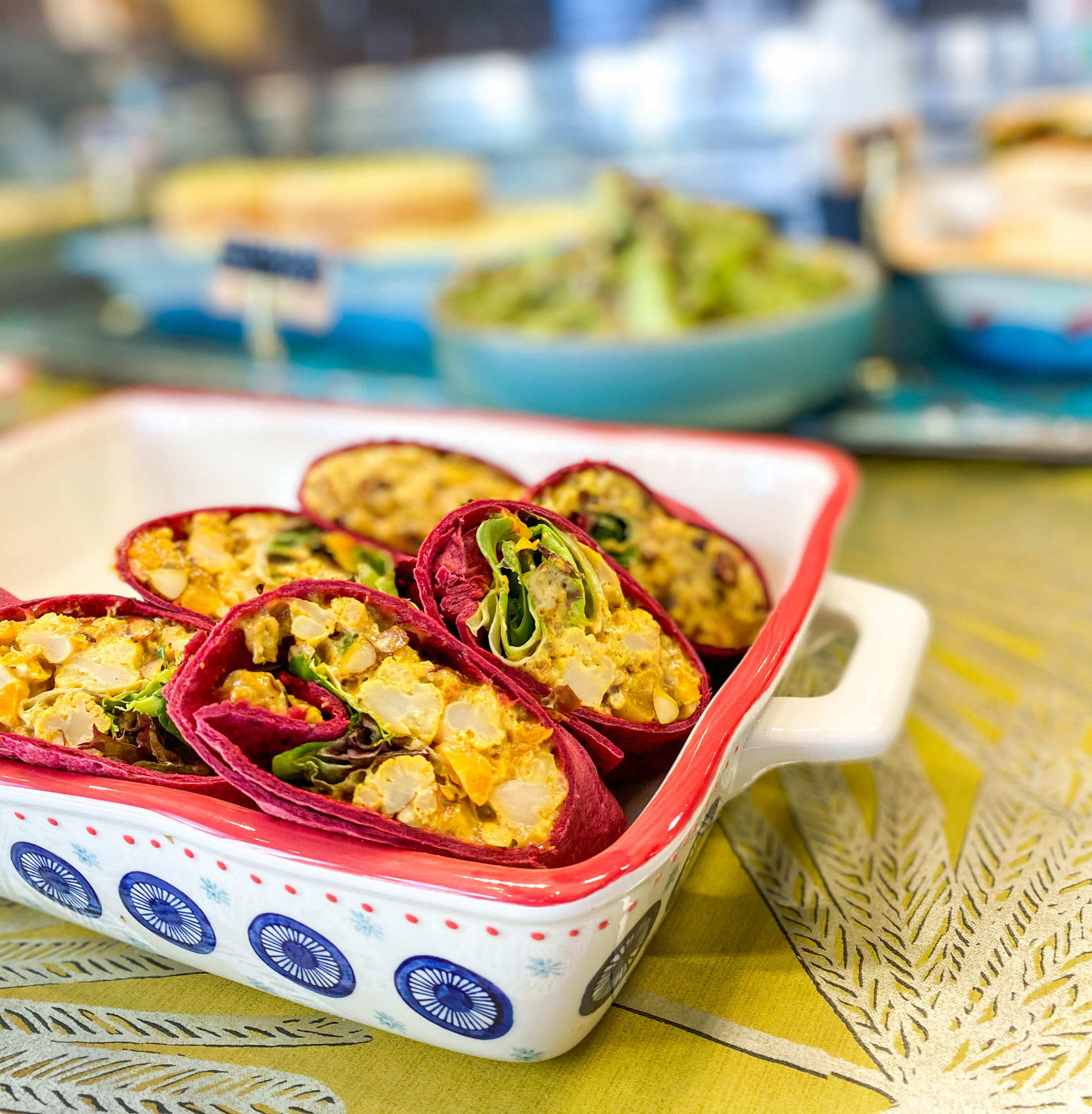 Roast cauliflower tossed in our homemade coronation mixwith greens wrapped in a beetroot and chia tortilla.
£4.95
| Gluten free option / £1.00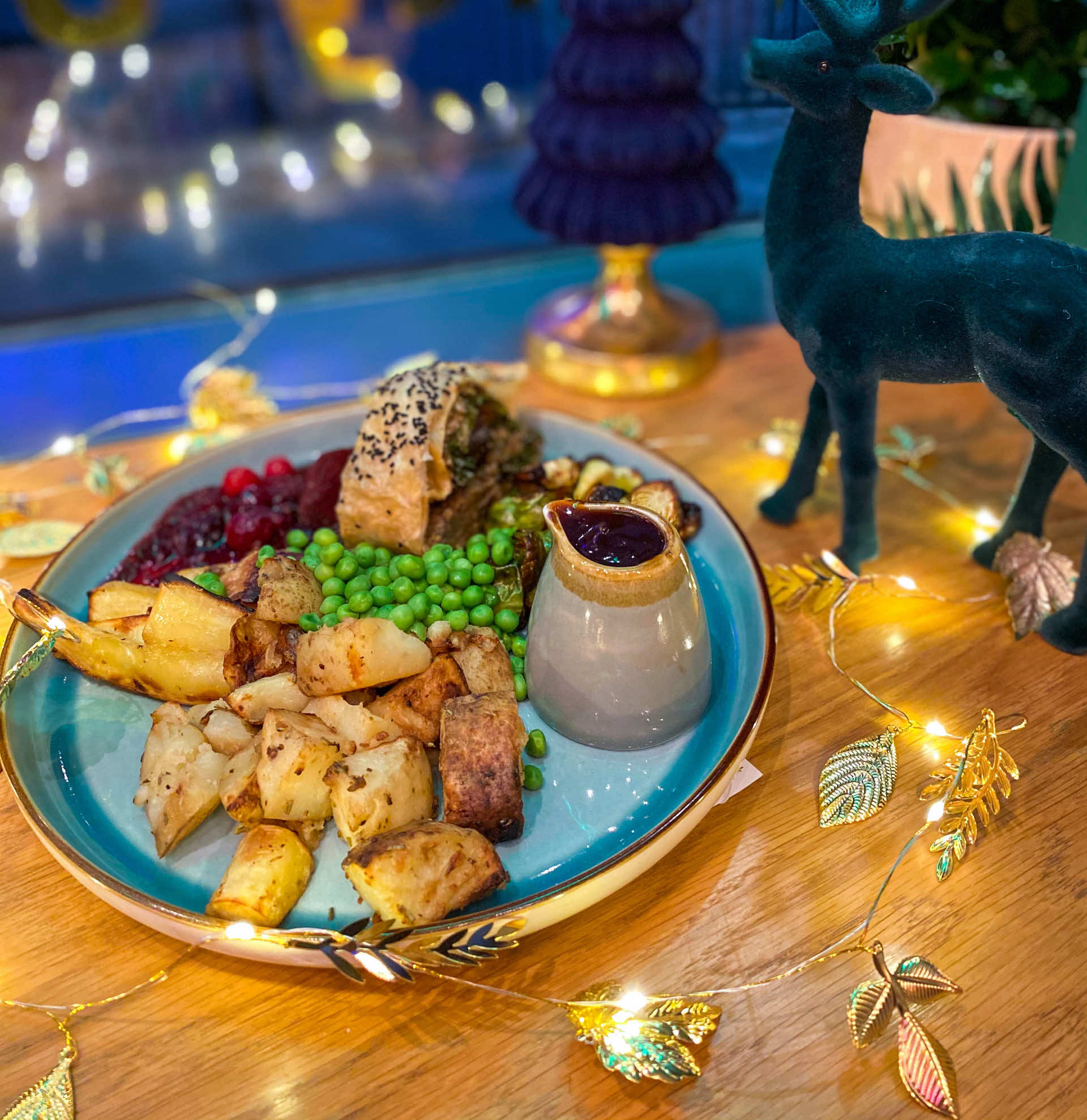 Mushroom and beetroot Wellington served withrosemary roast potatoes, maple roasted parsnips,brussels sprouts, peas and stuffing with a side ofhouse cranberry sauce and gravy.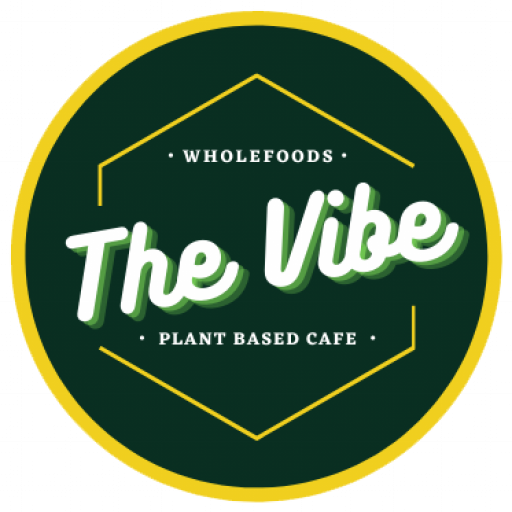 BOW TIE BOLOGNESE
Lentil and walnut Bolognese served with fresh rocket, adrizzle of herb oil, balsamic glaze and topped withhomemade cashew parmesan.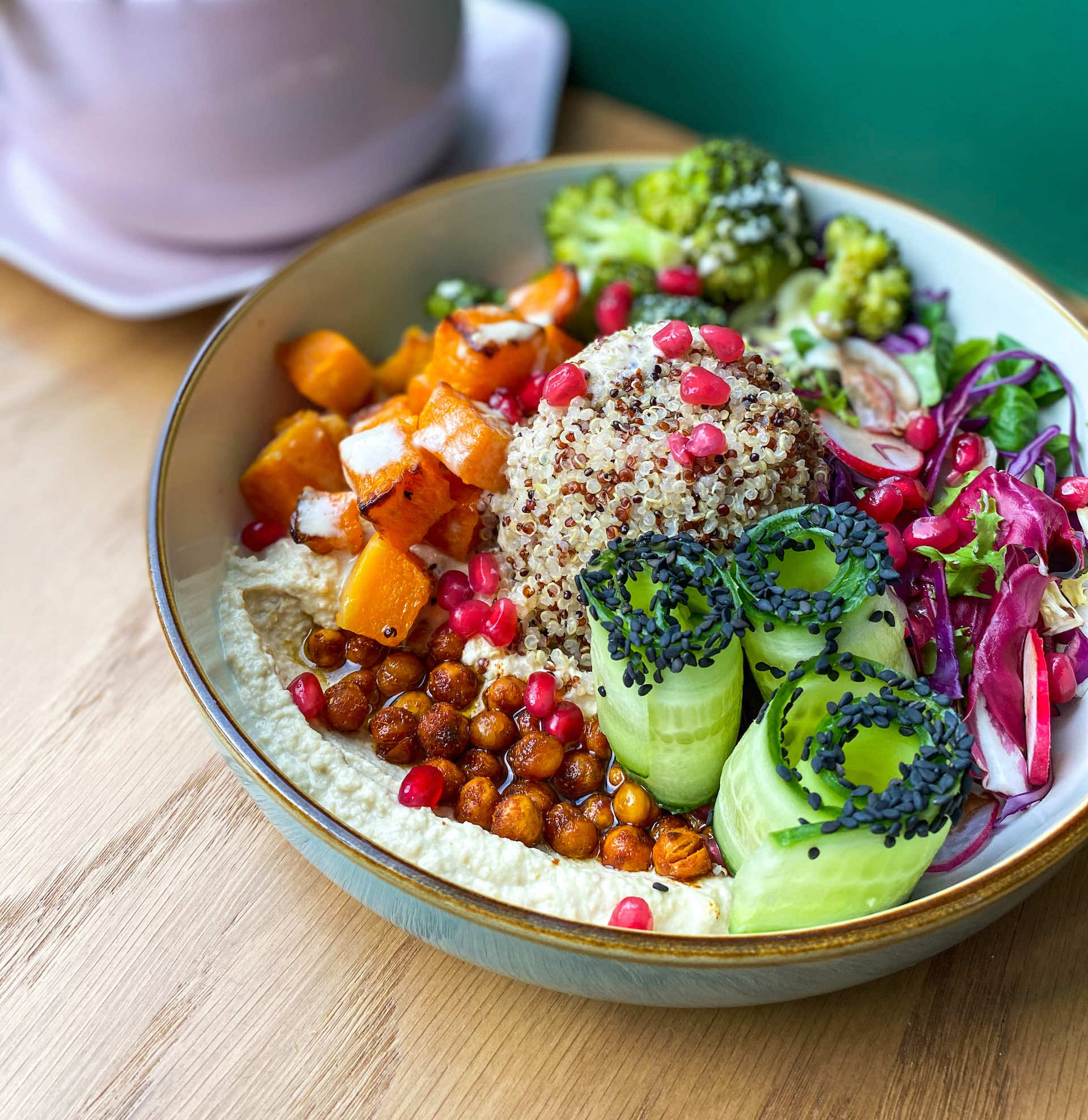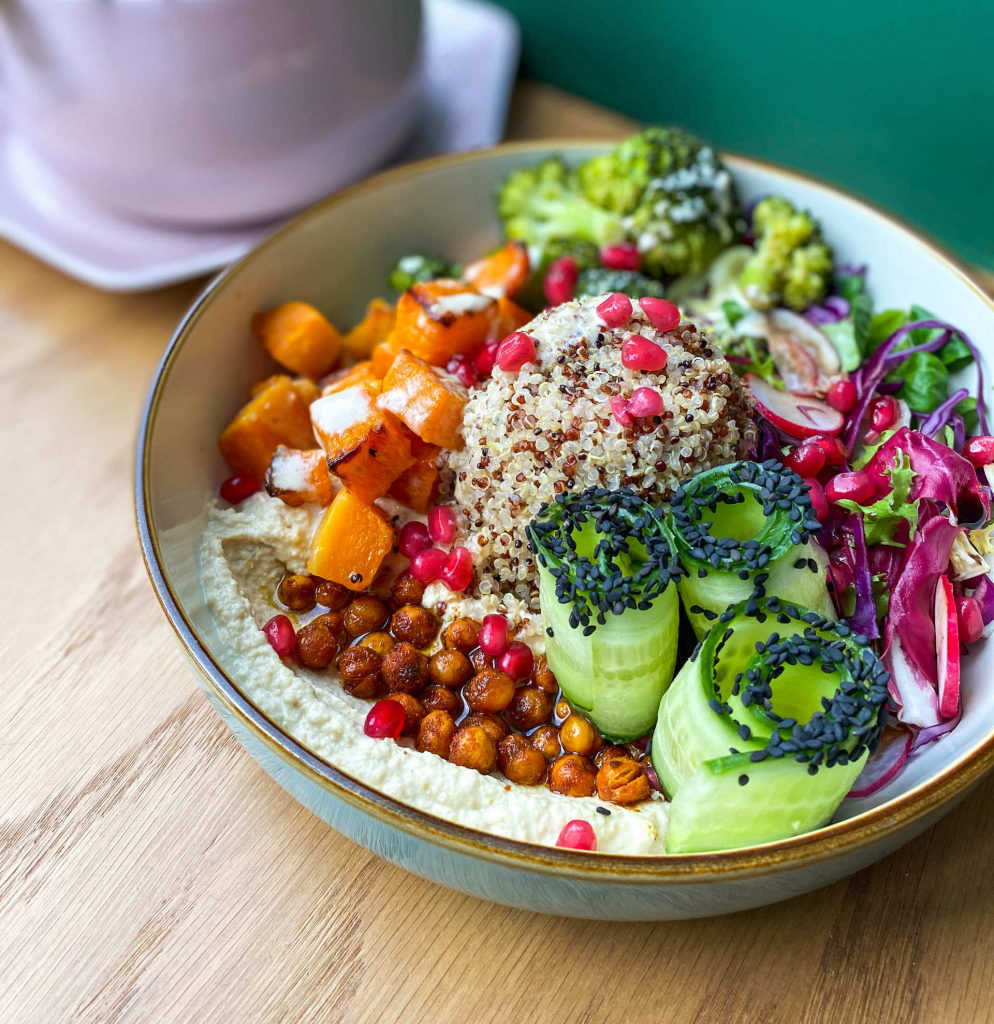 Steamed broccoli, roasted squash, harissa humous,fresh greens, red shredded cabbage, and cucumber served with quinoa and a zesty tahini drizzle.
Gluten free tortilla chips, topped with black beans, corn, house salsa, shredded red cabbage, smokey jackfruit, avo and our homemade nacho cheese sauce.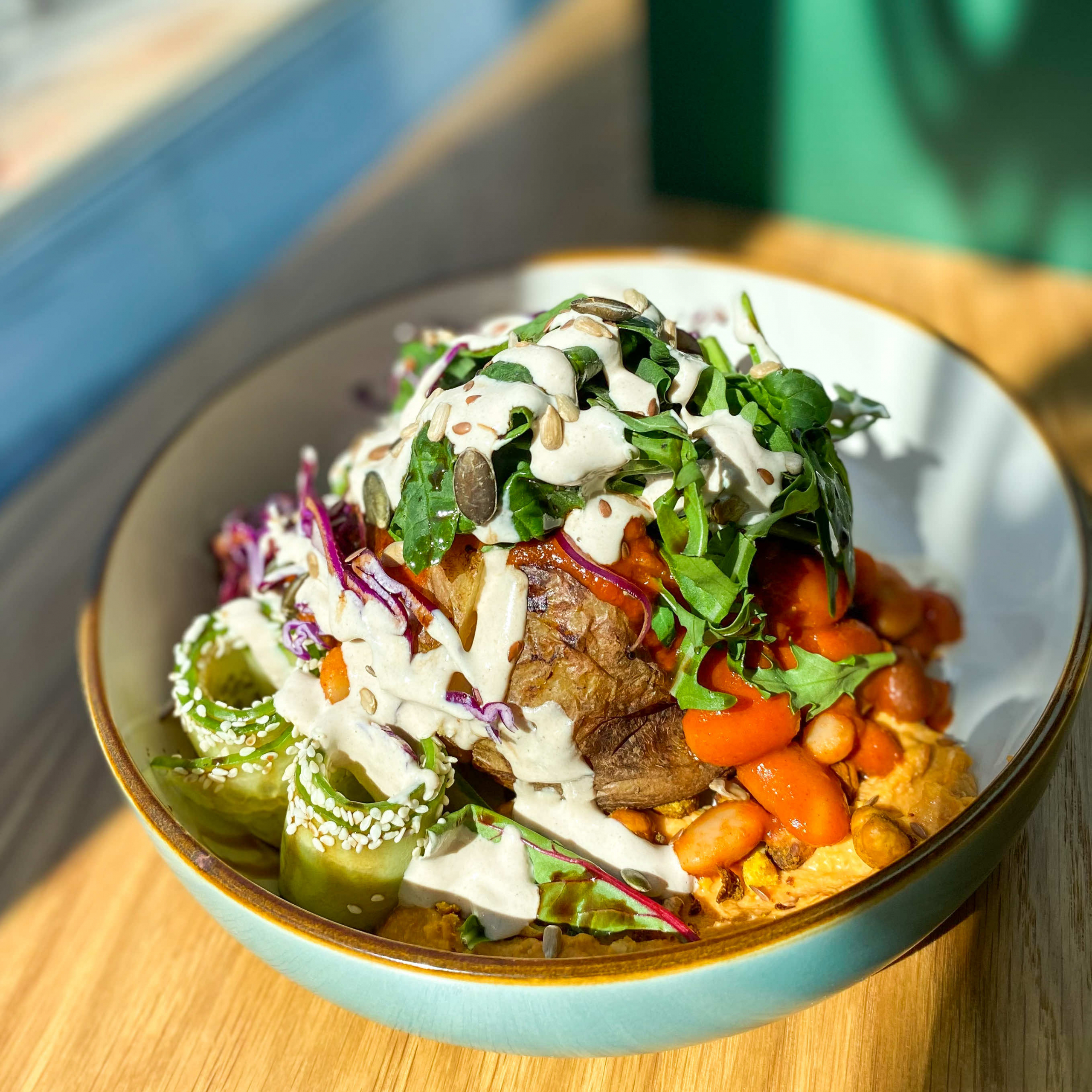 A base of baked potato topped with our house beans and fresh greens, red cabbage and a dollop of humous and roasted chickpeas and seeds.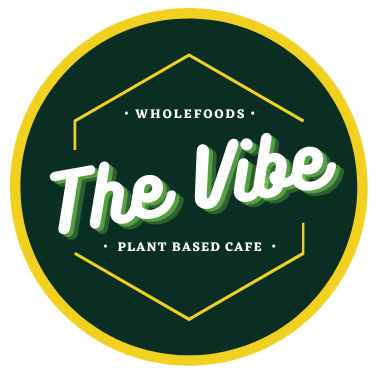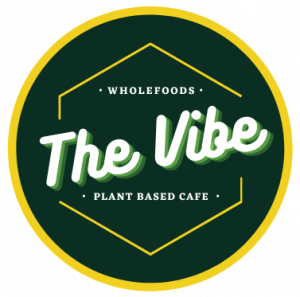 Selection of fresh seasonal salads.